Howard Supply Company, Inc. specializes in proprietary cleaners for the metal finishing industry. Cleaners can be custom-formulated to meet your company's specific needs, and we can be there to answer your questions during and after initial make-up. Not only do we guarantee the lowest cleaner prices, but we pride ourselves on providing our customers with the quality service they expect. Let HSC be your #1 source for acid salts, aluminum deoxidizers, aluminum etches, brightener systems, burnishing compounds, electro cleaners, galvanizing cleaners, iron phosphates, paint strippers, rust inhibitors, sealers, spray booth grease, soak cleaners and spray wash cleaners. HSC has become a leading source for electroplating and metal finishing equipment, both new and used. Industrial equipment sales include AA Units, Air Handling Units, Anode Baskets, Boilers, Bead Blasters, Blowers, Chillers, Clarifiers, Compressors, Degreasers, Dumpers, Evaporators, Filters, Filter Tubes, Filter Sleeves, Filter Presses, Fork Lifts, Fume Scrubbers, Generators, Humidity Chambers, Loading Machinery, Lab Equipment, Loaders, Lamella Gravity Settlers, Ovens, Pallet Positioners, Polishing Lathes, Pumps, Plating Tanks, Plating Barrels, Plating Machines, (Rack and Barrel Jessup, Udylite, Baker), pH Neutralization Systems, Rectifiers, Skimmers, Spin Dryers, Tanks, Sludge Dryers, Storage Tanks, Ultrasonic Cleaning Units, Ultraviolet Disinfection Units, Vibratory Finishing Machines, Washers, Waste Treat Equipment, Work Carriers and X-Ray Machines. For the best used equipment deals, keep checking Howard Supply's Equipment For Sale page for the latest additions. Used equipment for sale is located throughout the continental US and Canada, primarily the Midwest states. If your plating shop is ceasing its operation, let HSC provide you with a complete salvage quote. ​
Recently completed salvage operation at DuPage Plating in Addison, IL

In exchange for the metals and equipment, we will offer you top dollar based on the quantity of metals and age/condition of your equipment. Our experienced, safety-minded salvage team will leave your shop empty and clean from top to bottom. Contact us today to set up an appointment!
Use the form below to join our quarterly Email list:
"Howard Supply Company, Inc. enhances the metal finishing industry by delivering the best in high-value, low-priced products, with excellent service to match. We are committed to conducting our business practices with common sense and integrity, and will always be friendly and easy to do business with."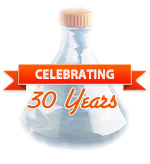 Howard Supply was the honored recipient of the 2013 Chicago Branch AESF/NASF Corporate Service Award. The award was presented to Mike at the May meeting.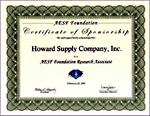 Howard Supply is proud to be an AESF Foundation Research Associate